Top 10 Books On Writing Fiction You Must Have In Your Library
Written by
Alison Lurie
, In
General
, Published On
December 1, 2021
,
1.5K Views
If you are determined to jump into the deep ocean of fictional writing, the best books on writing fiction are pretty near to being your best friends. You can either learn by referring to the best fictional books and getting inspiration from them or by exploring and reading the best book on writing. Likewise, creativity is an essential skill, and if you learn more regarding that skill, your writing will become better day by day.
So, do you know which books you should search for at your town's library or Kindle wish list? And how can your writing skill help in producing a masterpiece reserved to be a bestseller? So, let us discuss some best books on writing that will surely help you become the next Stephen King or develop your writing and creativity skills a lot better.
10 Best Books On Writing Fiction You Must Have In Your Library
So, to improve your writing skills by adding the following best books on writing in your library:
On Writing Well: The Classic Guide to Writing Nonfiction
By William Zinsser
You already have observed that this book is based on non-fiction writings. But it features the essential tips and tools that will significantly help you in writing fiction. This book was written by William Zinsser and was published in the year 1976. This book is treated as a classic guide to nourishing your writing skills.
So, what do you obtain from this book? This book is loaded with several tips on structuring your sentences, plot mechanics, including the overall writing skills to write down a successful book. It features a very conventional and conversational writing style that makes it easy to read and understand.
The Secrets of Story
By Matt Bird
Have you ever noticed that why some stories are compelling while others just lie flat? The Secret of Story helps in discovering the answer to this question. This book is written by Matt Bird and dramatically enables you to write a story that will engage and appeal to your audience and leave them to return for your more writings.
This book has made its place in this list because of its handy checklist. With the help of this checklist, you can significantly improve your writing skills to write down a story that your readers would feel aroused while reading. This book is a must-read and should be a part of every aspiring writer's library.
Story Engineering: Mastering The 6 Core Competencies of Successful Writing
By Larry Brooks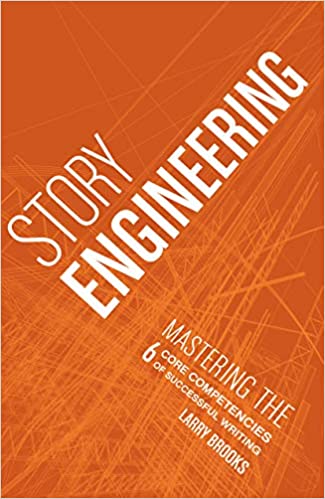 Story Engineering, a book by Larry Brooks, holds great importance for fiction writers. Writing short stories or novels demands a great understanding of storytelling, creating a buildup in the story, bringing the lead characters to life, and this is precisely what this book is written to teach.
This book considers storytellers like engineers helping you to build a successful and compelling story. It teaches you to develop your story bit by bit until they are structured to be a compelling plot. The writing style of this book is pretty intense, but the skills you acquire from this book are exceptionally well.
Improv for Writers: 10 Secrets to Help Novelists and Screenwriters Bypass Writer's Block and Generate Infinite Ideas
By Jorjeana Marie
Every writer in their life, regardless of their skills, eventually faces writer's block. However, Improv for Writers, written by Jorjeana Marie, is a helpful guide to learning how to overcome writer block and develop fresh, new, and innovative ideas that keep your writing flow.
Improv for Writers is packed with productive tips written with a positive and encouraging approach. It depicts Jorjeana Marie's love for writing and writers on every page, making it an enjoyable and motivational read.
About Writing: Seven Essays, Four Letters, & Five Interviews
By Samuel R. Delany
This book About Writing focuses on the particulars of fiction writing. It depicts the thoughts of Samuel R. Delany about the necessity of using flashbacks and developing vivid characters that would attract the reader's sympathy.
This book briefly discusses the differences between the new generation authors with the authors of the past. This significantly helps aspiring writers to understand the traits of historical writers while still considering the needs of a modern author.
The Art of Fiction: Notes On Craft for Young Writers
By John Gardener
Author John Gardner takes classic works of literature and helps young writers understand what makes them great. With The Art of Fiction, new fiction writers can learn to view their craft as a type of art. It assists people in making the transition from reader to writer through criticism, passion, and respect for artistic works.
The Art of Fiction takes you to a whole new dimension of literature and helps you understand what made historical writers great in their era. This book, beautifully written by John Gardener, helps you consider your writings a form of art. It supports both readers and writers in making a transition through passion, respect, and criticism for artistic efforts.
How to Write a Damn Good Novel
By James N. Frey
James N. Frey briefly explores the art of dramatic storytelling in How to Write a Damn Good Novel. It explores not only the excellent writing skills but also the story structure and the art of storytelling that would engage your readers.
Writers can write down a masterpiece in their initial draft by applying the advice discussed in this book. Aspiring writers planning to write a novel are recommended to add this book to your reading list.
On Writing: A Memoir of the Craft
By Stephen King
A writer's library strives for books written by extraordinary storytellers. On Writing: A Memoir of the Craft takes you to the childhood of its author Stephen King and lets you explore the reason behind his tremendous success. This book enables you to examine the traits of an exceptional storyteller.
Stephen King also explains the mechanics and structure to make your writing engaging. He also briefly describes the lifestyle of writers to be successful, which makes it a must-read for you if you are passionate about fiction writing. So, this memoir engagingly features several productive pieces of pieces of advice to nourish your writing skills.
Bird by Bird: Some Instructions On Writing and Life
By Anne Lammot
Bird by Bird helps you learn what it takes to be a successful writer. Anne Lammot believes that every individual has a book idea hidden inside them. All it takes is a little effort to pull it out. Her productive approach can significantly help you in overcoming writer's block and produce your next book.
Self-Editing for Fiction Writers
By Renni Browne & Dave King
We have not just included books based on plot structures and character development. Self-Editing for Fiction Writers, written by Renni Browne and Dave King, lets you explore solid editing techniques efficiently to edit your own work. It helps you explore everything from the point of view to dialogues to make sure your writing is efficient before sending it to a publisher.
Final Words
These are the most anticipated and best books on writing that will significantly help you create a masterpiece in your writing journey. Writing fiction isn't easy at all and takes time to develop and polish. We all have some stories to tell, but they demand a little effort to get out and written on paper. So, if you are planning to write a story, do a little research a dread the best books on writing to cultivate and nourish your writing skills before approaching a literary agent or a publisher.