Top 5 Cameras For eCommerce Photographers
Written by
Alison Lurie
, In
Gadgets
, Published On
January 6, 2022
,
1.3K Views
Last modified on
January 11th, 2022
It's not mandatory to have a fancy camera with a long-range lens to take good eCommerce product photos. You can begin with some of the mid-level cameras on this list and gradually increase your inventory as your business grows. The basic intention of the Top 5 Cameras For eCommerce Photographers here in the content is to let you get introduced to those.
The best cameras for eCommerce photography can play a good role in dramatically improving your shots and demonstrating the products' value. Also, make sure to enhance product images by professionals who are efficient in eCommerce product photo editing. Customers will be able to visualize the product in their own lives in this manner. You can take a product shot using a nice camera, good lighting, and the highest resolution or quality level. Here we are mentioning Top 5 Cameras For eCommerce Photographers.
Top 5 Cameras For eCommerce Photographers
Here is the part where we are bringing some detailed info on the cameras along with the name and links. However, we are not referring you to any high-end or costly cameras as those could be out of your reach if you are not a millionaire. Still, the ones we are mentioning could be a good start if you have a passion for eCommerce photography. So, go thru a pack of the best camera for photography and choose what suits you.
The D850 is well-suited to low-light photography, and its high-end specifications ensure that even in challenging situations, you get excellent results. A full-frame sensor with over 45 million effective pixels and an Expeed 5 processing engine is housed inside Nikon D850. It has a standard ISO range of 64 to 25,600. Gapless microlenses and a backlit sensor are also included, allowing you to get the most out of your light gathering.
The Nikon D850 is a high-end camera that costs a lot of money, but it's well worth it. The camera features a 45-megapixel sensor with good resolution, making it competitive with other cameras in its class. You can also print large adverts with ease because of the resolution.
It has one of the lowest ISO noise levels in a DSLR camera, as well as superb image quality and dynamic range. You can repair highlights and shadows in your eCommerce photographs with these tools. By our assessment, this one got the top position in the best camera review here.
Canon EOS R5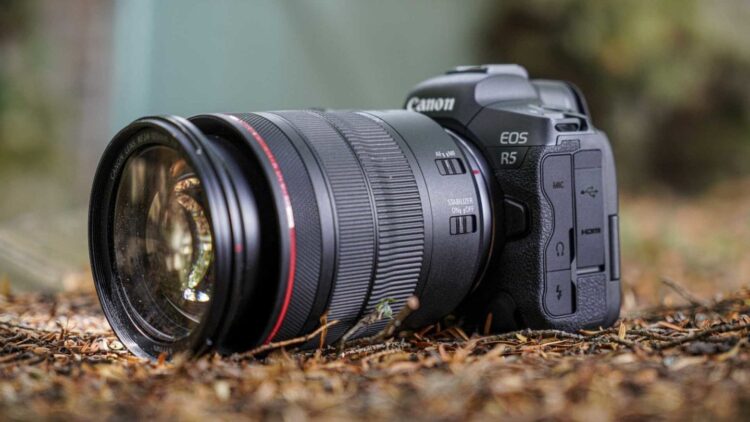 The Canon EOS R5 is a tremendous still camera with impressive functionality that lets you achieve professional-looking eCommerce photographs. The camera features the greatest autofocus on the market, as well as stunning 8K video and the best full-frame IBIS system. The camera has a brand new 45MP CMOS sensor.
It builds on Canon's full-frame camera heritage by offering next-generation performance, picture quality, and durability. It's suitable for a variety of photography and cinematographic situations, including eCommerce, portraiture, and more. It also has the DIGIC X Image processor, which improves the speed of processes. This ensures efficient and quick performance for large prints and stunning 4K video.
High-speed continuous shooting at up to 12 frames per second is present, with an electronic shutter speed of up to 20 frames per second. You'll be able to conduct camera operations with more precision and speed this way.
Deep learning technologies, such as head and eye identification, are also included with the camera. You'll also receive an in-body image stabilizer to help you capture still shots at slower shutter speeds and decrease camera shaking.
Olympus OM-D E-M10 Mark IV
The Olympus OM-D E-M10 Mark IV is an excellent first camera for eCommerce photographers. The good beginner camera is easy to miss, yet it is still worth considering for a variety of reasons. To begin with, the camera is tiny and still-focused, with a heavy emphasis on taking stunning photographs.
A three-inch flip-down touchscreen, a 20MP Micro Four Thirds sensor, and five-axis in-body image stabilization comprise the camera. Beginners and enthusiasts who want to take their photography to the next level can benefit from the pocket camera. It has a wide range of lens compatibility, high-powered moving subject autofocus, and next-generation face and eye identification.
The simple-to-use camera, which comes with a lens, weighs only a pound and comes with capabilities that allow you to take wonderful shots after spectacular shots. It also has failsafe motion blur reduction technology, allowing you to capture high-quality, razor-sharp, and brilliantly clear still images even in low-light situations.
Sony a6400
A wonderful camera to start with if you're on a budget and that is the Sony a6400. It's a low-cost, high-resolution camera with a 24.2MP sensor that's ideal for eCommerce photography. The mirrorless camera features sharp optics, up to 11fps burst speeds, and quick, precise autofocus for outstanding image quality. It also performs well in low-light circumstances.
An APS-C picture sensor with copper wire and a good circuit procedure is also incorporated. This gives you an efficient light collection system with low noise and a wide sensitivity range, even at high ISO. The camera bridges the enthusiast-to-consumer divide, providing fast and high-quality automated operation for eCommerce photos. It may be used to create 4K films and crisp photographs.
It's also simple to use, beginner-friendly and produces excellent results. Furthermore, the camera is portable, light, and comes with a 16-50mm kit lens as well as a variety of other lenses. And, as we mentioned before, this is one of the cheap camera photography options you can go with.
Panasonic Lumix GX85
For beginners or pros, the Lumix GX85 of Panasonic is an amazing eCommerce camera that is lightweight and produces good photographs. Whether in the studio or on the fly, you may shoot in automatic or manual mode. With 4K video, five-axis image stabilization, an electronic viewfinder, and a tilting touchscreen, the camera is a relatively inexpensive addition to your photographic kit.
The camera performs admirably and provides a nearly optimal balance of speed, usefulness, and image quality. All of this adds up to sharp photographs that will make your eCommerce shop stand out. Its sensor captures great detail, and its mirrorless lens camera kit allows you to shoot lighter and faster than other DSLRs and mirrorless cameras.
It also has WiFi, so you can shoot remotely or transfer photographs to your phone using the Panasonic Lumix app. Because of its feature set, this camera offers outstanding value for money. A 12-32mm kit lens and outstanding 4K video quality are also included.
Fujifilm X-S10
The Fujifilm X-S10 is quite a user-friendly, portable camera that captures excellent results. You can use the camera to get blur-free, high-quality impressions for all of your eCommerce photography needs. The stylish camera got a small form factor, a large feature set, and cutting-edge technologies to help you get the most out of your photos.
It's very lightweight and features a large grip for telephoto lenses. The Fujifilm X-S10 boasts in-body stabilization, unlike the other cameras on this list, so you can take blur-free images and motion pictures. A CMOS 4 sensor for stunning and unbelievable detail enlargements is one of the qualities that make the camera suitable for eCommerce. Your photos can be printed at billboard size or cropped and framed in stunning detail.
Considering various cameras for a photographer, Fujifilm X-S10 must be a nice addition for eCommerce photography. You'll also receive rich detailed, clear images in a variety of lighting circumstances. And, you'll be able to take stunning photos at any moment with superfast 30 frames per second. You'll be able to capture photographs with incredible clarity as a result of this.
Conclusion
So, you must like the Top 5 Cameras For eCommerce Photographers. To take attention-getting eCommerce images of the product you're selling, you don't need to be an expert photographer. You have an internet shop and at least one product you'd like to offer. The item could look fine on your desk or in your office. But, how can you ensure that it stands out in the age of social media filters? You also don't have to plan a photoshoot, which can be intimidating for many individuals the first time. Well, what you can do is, choose the most compatible camera in your range, do the photography and make them polished by a professional photo editor.