7 Best Video Editors to make advertising videos for free in 2022
Last modified on
January 11th, 2022
Although creating high-quality commercial and video ads takes a lot of work, we've put together this list of the best apps to make free commercials. In this way, you can create attractive and powerful free advertising videos that resonate with your target audience and achieve the conversions you need.
7 Best Video Editors to make advertising videos for free in 2022
How to make a successful YouTube channel? Guide to boost your brand or your business in 2022
You will not download any other when you meet this app to make your advertising videos for free. It is the most downloaded video editor and it is available for both Android and iOS, and it has more than 100 million downloads! The reality is that InShot is a super easy to use and quite predictable application.
You will not need to have knowledge in editing or anything like that. Just record a video, and play with its filters and tools. But not! Not yet. Wait for us to tell you a little more about the video editing app of the moment.
This tool will allow you to adapt your videos to all formats of social networks, recommending what measure to use depending on where you are going to upload them. You can also modify the sound, speed, color, and settings such as brightness, saturation, etc. It has never been so easy to make free videos for advertising.
Why choose InShot Video Editor?
It will let you add other photographs on top, emojis, texts, even using more than one video simultaneously. Its transitions are terrific and make the final product of excellent quality. Play more than one track simultaneously, remove the original sound, lower it, or whatever. The possibility of creating advertising videos for free will be almost endless.
Now, it is essential to know how to record videos with your cell phone or smartphone using lighting and movement techniques. To do this, we suggest you enroll in the Smartphone video production course.
Once you have finished it, you will download advertising videos for free in different resolutions, up to 1080 pixels. This will ensure that you can upload it to any platform without getting pixelated.
InShot has a paid version and a free one. Some filters and stickers are enabled only for the membership version, but the free ones are excellent. The most significant difference between one and the other is that the free adds a watermark, but you can remove it before downloading the video.
In addition, it has advertising. If you don't want to spend money and make advertising videos for free, InShot is a great option.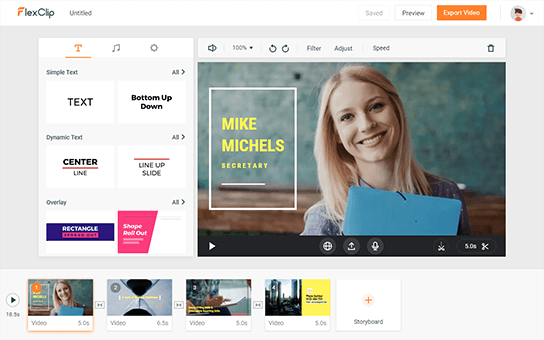 If you want to create high-quality free advertising videos, FlexClip provides the ability to add transitions and filters and change the speed of the video.
What makes FlexClip one of the best sites for free video advertising? It offers powerful and easy-to-use editing tools and resources without the need for downloads.
It also provides a sizeable multimedia library with photos, videos and music that you can easily add to your advertising videos for free. It has video ad templates that you can use if you don't already have a creative direction in mind. Among its main characteristics, it has the following:
Multimedia resources in great quantity.
Video ad templates.
Easy editing and export.
There are no watermarks for videos under 1 minute that do not use stock library resources.
FlexClip is a great free ad video maker program that you can easily get familiar with to create your videos smoothly.
Magisto Video Editor
This program for making advertising videos has a peculiarity. You upload a video, choose an editing style and the music ( Magisto offers an extensive catalog).
Magisto technology captures the mood and selects the best moments from your video. If you are looking for an app to create commercials with personalized and professional editions and synchronize with the music, this is an ideal solution. It is a friendly and straightforward app that will help you improve an existing video to a more "professional" video.
It offers ready-to-use video templates that allow your audience to remember important dates. This way, your viewers stay connected, and you get more potential customers.
Although it comes with trial versions, the bad news is that it is not a free advertising video maker. To get unlimited downloads with access to the editor, you will need a "Premium" plan, starting at $ 4.99 per month.
Also, you can create powerful advertising videos for your business with the "Professional" or "Business" plan that you can purchase on a monthly or annual basis.
Spark Video is an extremely simple and intuitive application created by Adobe to create free online advertising videos. It gives you access to an extensive image bank, as well as predefined styles and themes so that you can personalize your advertising video and easily record your voice, phrase by phrase.
Among the main features of this free advertising video program are:
Wide variety of predefined styles and themes.
Image bank with more than 100,000 images to personalize your advertising video.
Easily record your voice, phrase by phrase and frame by frame.
The application automatically creates high-quality animations and transitions.
Adobe Spark Video will allow you to create ad videos for free, but it does offer subscriptions to unlock certain features.
Biteable lets you create free banner ads quickly and easily with stock video footage and templates. It is a free online ad video maker that includes all the tools you need to create your videos, ads, and presentations for social media.
If you upgrade to a premium plan, you'll get custom branding, high-definition advertising videos, commercial use rights, and much more. Among its main features are:
Hundreds of live-action and animated images.
Video clip art templates.
Drag and drop timeline.
Music without copyright.
Easily share to YouTube, Twitter, and Facebook.

Animoto Video Editor
Another of the best programs to make advertising videos for free that we have found is Animoto. You have to upload your photos or video clips, trim the video, add filters, voiceovers, and much more.
It's easy to use and includes a stock library with some storyboards (but no templates). You can easily create custom banner ads for the platform you want to run on. Among its main characteristics are:
Easy to use editing tool.
Stock library with over 1 million photos and video clips.
Drag and drop function to arrange your images and video clips directly in your project.
Cloud-based.
Thousands of licensed audio tracks.
Record your voice.
Add text in a custom way.
Create original collages and designs.
As you can see, Animoto makes it easy to edit videos and photos dynamically and professionally. So it will be straightforward for you to start creating free advertising videos, as it has a free version to make unlimited videos.
Animoto will keep the logo on your advertising videos unless you access the professional version, which costs $ 22 per month.
Renderforest Video Editor
To create free advertising videos, you can also use Renderforest, a cloud-based application that allows its users to make from infographics to advertisements in a few minutes.
It includes several templates to make free whiteboard animation advertising videos, a good way to present your products or services to your audience. In addition, it offers 2D and 3D animation and explanatory videos. Among its main features are:
Several templates to choose from.
Easy to use.
Voice-over options.
Adjust colors, fonts, duration, and more.
Zoom and scroll.
With the free version, you can access unlimited exports of advertising videos in 360p up to 3 minutes in length.
You also have access to more than 200 thousand stock videos and music tracks, although your videos will be watermarked. There are several subscription plans to choose from, and if you want to use a specific product, you can easily pay for the product instead of subscribing.
The truth is that any of our selection of programs to make advertising videos for free can help you achieve your goals. Get started today and increase the time your audience spends on your page. Thus, you can build trust, increase conversions, sales, and much more.
Download our template for free to develop an Audiovisual Proposal for an advertising Spot. Regardless of the type of video ad you want to create, your brand, products, and services must get the best possible light.
And if you need to reinforce your knowledge in marketing, take a look at the Digital Marketing courses, with which you can be updated with new concepts and technology. If you found this post helpful, share it with your friends. Much success in your videos! See you soon.